Bio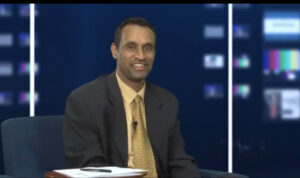 Dereje is the founder and Publisher of Zethiopia, a Washington, D.C. based, bilingual (Amharic and English) newspaper where he currently serves as editor-at-large for the online publication. He is a veteran journalist who has served as a television and radio host, producer, and editor for more than 21 years in the U.S. and Ethiopia. Helped to establish Eletawi Addis, the first private daily newspaper, in Ethiopia. He supervised more than 150 journalists and a team of editors for the Daily Newspaper. He reported and contributed to NPR's "Latitude" show and won an award for international affairs reporting from New America Media and the American University.
Dereje graduated from Addis Ababa University, in 1991, with a bachelor's degree in Ethiopian Languages and Literature. He studied Religion, Conflict and Peace, Harvard University (CERTIFICATE-online). He has shared his experience in journalism at public forums in Washington for congressional staffers at the U.S. Capitol, the George Washington University, the American University, the U.S. Library of Congress, and National Public Radio.
Dereje was a Business Development Manager; Africa and the Middle East, for AudioNow. He also worked as  graphic designer and marketing strategist. In addition to his Amharic language consultant and translation services, he's working as an Amharic language instructor, Ethiopian culture and Etiquette teacher, for Ethiopian Heritage & Culture Camp for the last ten years.